Contact
We are young, but progressive company …
Our idea is :
Project consists of three essences: quickness, cost and quality.
We want to be fast, cheap, but not at the expense of quality.
Quality is the main factor of success for realized project.
Our goal is to make superior work, where at the end is satisfied customer, which, thanks to our solution, can fully care about it's business activities.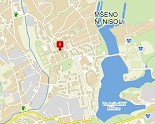 BOBYsoft
Ing. Bohuslav STANĚK
Mechová 15
Jablonec nad Nisou
466 04

Mobile: +420 608 313 702
Fax: ---
E-mail: info@bobysoft.cz
Icq:

245-456-185